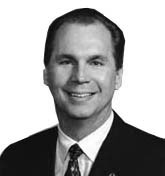 ---
RAY HAYNES
Principal
---
Ray graduated from University of Southern California Law School, and practiced law in Riverside. He started a solo law practice in 1988.
Haynes was first elected to the California State Assembly in 1992. He served in the California State Senate from 1994 to 2002, including as Senate Republican Whip. In 2000 he served as National Chairman of the American Legislative Exchange Council, a conservative group that produces policy proposals for state legislatures. He ran for US Senate in 2000, defeated in the Republican primary by then Representative Tom Campbell. Haynes was again elected to the Assembly in 2002. In 2006, he was Chairman of California Border Police Initiative. Haynes represented District 66, which includes western Riverside and northern San Diego counties. He left office because of term limits and was succeeded by Kevin Jeffries.
Haynes has been one of the most prominent Senator's in California history initiating new laws and is currently one of the most high profile litigation attorneys in California. Haynes' is married and has three daughters.